Is Winter Finally On The Way ??
Are we going to begin seeing a more a more winter like pattern as we head into Jan ??
Look at the big Picture
ENSO
Let us begin to look at the larger state of the climate based on El Nino-Southern Oscillation (ENSO) Phase.  We are currently trending into a  neutral El Nino state which means waters in the Pacific Equatorial region are near normal in temperature.  Below is a  generalistic look of usual conditions for neutral El Nino type pattern:


Now there are multiple on-going factors that need to be taken in consideration, and obvious El Nino conditions differ from West Based to East Based and with other factors that are in play. Forecasting long range are 'best guess' based on what current conditions are likely to be.
Here is a reminder of the 2019 – 2020 Winter Outlook from CPC:
(Click either pic to go to the NOAA CPC Page for more detail)
Modiki El Nino 

 Modiki El Nino Is when portions of the ENSO are actually cooler then normal on the West of South America. This usually drives colder temperatures for the East and Mid Atlantic.
However, we have not seen evidence of this to date:

TELECONNECTIONS
Other major factors are what we call teleconnection patterns. Teleconnection refers to a recurring and persistent, large-scale pattern of pressure / circulation anomalies that spans vast geographical areas in the atmosphere.
So lets try to go through and give you a graphical representation of each, and try to explain how a -NAO -AO and +PNA are the best set up for a Mid-Atlantic / East Coast for winter storm setup.
Below is a look at characteristics of a Negative / Positive Arctic Oscillation (AO)
You can see here in a negative phase that the cold in the stratosphere is basically displaced into Canada and North America.
Here is a graphical representation of a North Atlantic Oscillation (NAO) and its general effects:
A Negative NAO  is also sometimes referred as the Greenland Block , East Based NAO because high pressure establishes itself there allowing for the strongest flow of cold into the Mid Atlantic. West based NAO where high is positioned move over Canada is little less favorable.
… and Finally A Look at the Pacific North American (PNA) Pattern
Positive PNA is also sometimes referred to as  a 'zonal flow' usually brings milder conditions from the west straight along to the east.
So wait then, why did we see snow then here in December of 2013 where the patterns didint match any of these and we still got good snow fall totals ???
There is another pattern called the East Pacific Oscillation (EPO)
 The EPO is the high altitude  wind flow over the Eastern Pacific which is influenced by the ocean temps.. When the EPO is in a positive phase, there is usually troughing on the West Coast, while milder air engulfs the inland and Eastern part of the country. The positive EPO limits troughs in the East.  When the EPO is in a negative phase it has the opposite effect on the East Coast where a -EPO encourages a northwesterly flow from Canada into the Eastern part of the U.S, allowing for cold air to intrude, but without the assistance of a stronger -AO or -NAO we end up with more transient shots of cold air  that usually support snow more west of the coastal plain as we saw in 2013.
MJO
Maden Julian Oscillation – MJO can be a strong influences to extreme events our weather. Though we usually talk about this during hurricane season and tropical development it can have a profound influence during the winter including Arctic air outbreaks during the winter months.
MJO is large propagating area of tropical convection (showers and thunderstorms) that has a strong influence in Jet Stream patterns. Patterns can cycle from 40-50 days and travel eastward across the tropical equator.  The MJO is classified in Phases as it moves through each of the regions as dictated in the forecast below. We usually see effects in regions 7 8 & 1. The further away from the circle the stronger the effects.  (Circle is sometimes categorized as the Circle of Death because the effects are minimal.)
Current MJO Forecast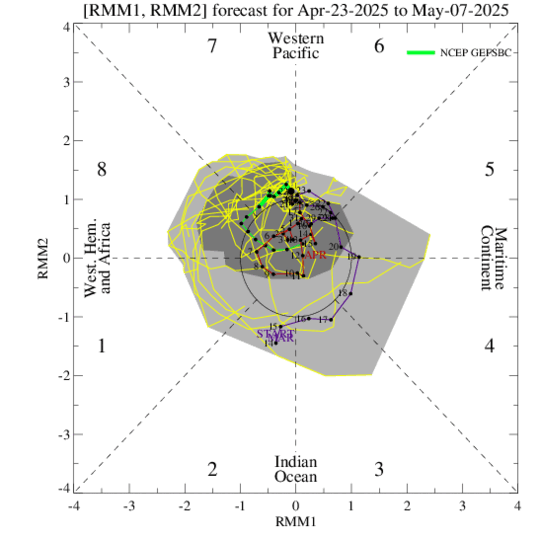 Generalistic Look at the MJO and its effects in each phase.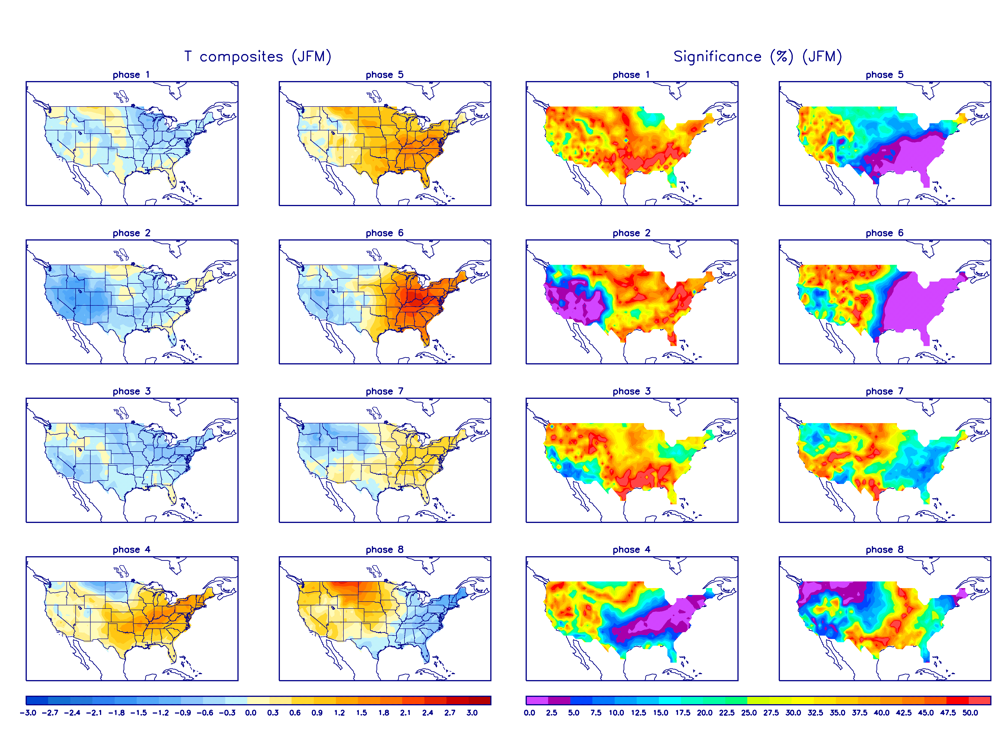 Sudden Stratospheric Warming (SSW)
A Sudden Stratospheric Warming (SSW) of the atmosphere refers to a swift jump in temperatures in the stratosphere that is sometimes linked to the onset of cold weather in winter.
OTHER FACTORS
Water Temperatures – This early into the year, water temps usually dont help us on the coastal plain that much. It is usually not till we get more into the heart of the winter season when water temps get cooler and have a less dramatic effect on potential snow storms.
Finally Storm Track – Inland storms also favor snow to West and rain to the East, with a South to South West wind bring warm temps during the storm, and then cold air as the system moves out with slight chance of snow on the back-end.
***************************************************
Okay so what are we seeing today that may be indication that white winter is coming… ( or NOT coming) ?
AO – Trending Positive (Like to See Negative)

NAO – Trending Positive (Like to see Negative) 
PNA – Negative (Like to see Positive)

EPO – Positive (Like to see Negative)

MJO – Outlook to Phase 4 or 5  (Like to see in 1 & 2 or even 7 & 8)
So in closing.. we have a way to go yet to a pattern that will drive us with good snow results. (That is if you like the snow of course.) A persistent cold pattern is really not there though we can not rule out arctic intrusions with some really cold temps as we head into late January.
Though we are not in the heart of winter yet we still have a way to go and we recommend you prepare for it in any case. Make sure you have a Winter Kit for your vehicle including warmers, de-icer, etc.
You cant go wrong by being prepared !