What is a Hurricane ?
The Atlantic Hurricane Season begins June 1 and ends November 30 of each year.
A hurricane is a Topical Cyclone with sustained winds reaching speeds of 74 mph or higher.
?? Okay.. so whats a Tropical Cyclone..??
Well basically put.. a tropical cyclone has the following characteristics, a warm core low pressure system that develops over tropical (and sometimes subtropical) waters, and has an organized circulation. The categories of these systems are usually based on surface winds and are as follows:
Tropical Disturbance – A discrete tropical weather system of apparently organized convection usually maintaining  itself over period of 24 hours and can be associated with easterly waves off of Africa.
Tropical Depression – When a tropical disturbance develops a closed circulation (e.g., counter-clockwise winds blowing around a center of low pressure), it is categorized as a tropical depression. Tropical depressions contain max. sustained one-minute winds of 38 mph (33 knots) or less, at an elevation of 10 meters.
Tropical Storm – A tropical cyclone is given a name by the National Hurricane Center once it reaches tropical storm status. Tropical storms have maximum sustained one-minute winds of 39-73 mph (34-63 knots).
Current Name List 
Hurricane – Hurricanes have sustained one-minute winds of at least 74 mph (64 knots), at an elevation of 10 meters. Winds in most hurricanes can become much stronger. Hurricanes are categorized on a scale of 1 to 5 based on their wind speed via the Saffir-Simpson Hurricane Wind Scale. (<–See link for types of damage associated each category)
Major Hurricane – A tropical cyclone with maximum sustained winds of 111 mph (96 knots) or higher, corresponding to a Category 3, 4 or 5 on the Saffir-Simpson Hurricane Wind Scale.
Climatology
The above chart shows the distribution of the number of storms over a 100 hear period. The  peak of the season is from mid-August to late October. However, deadly hurricanes can occur anytime in the hurricane season.
Origination
Below graphic shows also the associated areas where storm originates as the season progresses.
 Whats important to note here is that a hurricane does not necessarily have to originate from Africa.. though those that normally due usually can be more
Tracks
The figures below show the zones of origin and tracks for different months during the hurricane season. These figures only depict average conditions. Hurricanes can originate in different locations and travel much different paths from the average. Nonetheless, having a sense of the general pattern can give you a better picture of the average hurricane season for your area.
     

H

AZARDS    
STORM SURGE

Along the coast, storm surge is often the greatest threat to life and property from a hurricane. In the past, large death tolls have resulted from the rise of the ocean associated with many of the major hurricanes that have made landfall. Hurricane Katrina (2005) is a prime example of the damage and devastation that can be caused by surge. At least 1500 persons lost their lives during Katrina and many of those deaths occurred directly, or indirectly, as a result of storm surge.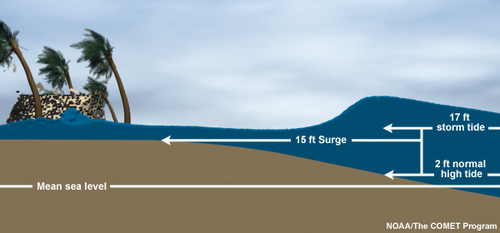 Storm surge is an abnormal rise of water generated by a storm, over and above the predicted astronomical 

tides

. Storm surge should not be confused with storm tide, which is defined as the water level rise due to the combination of storm surge and the astronomical tide. This rise in water level can cause extreme flooding in coastal areas particularly when storm surge coincides with normal high tide, resulting in storm tides reaching up to 20 feet or more in some cases.
High Winds

Tropical storm-force winds are strong enough to be dangerous to those caught in them. For this reason, emergency managers plan on having their evacuations complete and their personnel sheltered before the onset of tropical storm-force winds, not hurricane-force winds.
Hurricane force winds of 74 mph or more, can destroy buildings and mobile homes. Debris, such as signs, roofing material, siding and small items left outside become flying missiles during hurricanes. Winds can stay above hurricane strength well inland.
Rain / Flooding

Tropical cyclones often produce widespread, torrential rains in excess of 6 inches, which may result in deadly and destructive floods. In fact, flooding is the major threat from tropical cyclones for people living inland. Flash flooding, defined as a rapid rise in water levels, can occur quickly due to intense rainfall. Longer term flooding on rivers and streams can persist for several days after the storm. When approaching water on a roadway, always remember 

Turn Around Don't Drown

.
Tornadoes

Hurricanes and tropical storms can also produce tornadoes. These tornadoes most often occur in thunderstorms embedded in rain bands well away from the center of the hurricane; however, they can also occur near the eyewall. Usually, tornadoes produced by tropical cyclones are relatively weak and short-lived, but they still pose a significant threat.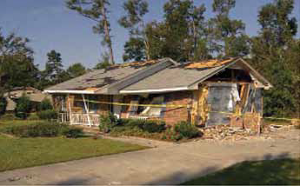 We will be posting more on hurricanes as we get closer to the heart of the hurricane season..
Including the Impediments to Storm Development, NHC  Forecasting Models,  NHC Aircraft Reconnaissance, FEMA;s Role and some information on what occurs locally when we are effected by tropical systems.
CURRENT ATLANTIC TROPICAL OUTLOOK